Frequently asked questions
Has Swansea declared any Air Quality Management Areas ?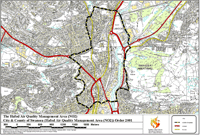 The City and County of Swansea declared parts of the lower Swansea Valley an Air Quality Management Area on the 12th September 2001. The area is cited as the Hafod Air Quality Management area (NO2) - City and County of Swansea (Hafod Air Quality management Area (NO2)) Order 2001.
There are 4646 domestic dwellings within the AQMA. Using the assumption of 2.5 people per household this makes a total of 11,615 people living within the area.
There are 292 commercial premises within the AQMA - these have not been used in the above calculation
There are also 5 schools within the AQMA area - 4 Primary and 1 Comprehensive
To download a larger map click here (please be aware that this is a large download and may take a few minutes - approx 2mb).
Please click on a question below to see the answer on the left ...
1
2
3
4
5
6
7
8
9
10
11
12
13