Sodar Data
What is the AQ500 Sodar?
The AQ500 Sodar works like an acoustic radar, transmitting sound pulses that are reflected by the temperature structure in the air. Detecting signals from the reflected Doppler shifted sound, the system can derive and present important information concerning wind speed, directions and turbulence.
More about the AQ500 Sodar »
« less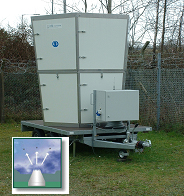 The antenna unit is transmitting short powerful tone pulses in three directions with a separation of 120 degrees for measurement of three components of the wind. Parabolic reflectors, with a specially designed acoustic horn system, are used both for transmitting sound pulses and reception of the back-scattered echo signals.
The system is also provided with a unique real time noise sub tracking technique based on continuously measurement of the background noise spectrum.
The AQ500 system is currently located within the Morfa TA Centre (approximately 10m above sea level) within the Lower Swansea Valley and also within the Hafod Air Quality Management Area. The area has complex terrain surrounding the site which heavily influences the prevailing meteorological conditions. Data is recorded with an integration of 15 minutes. Data is obtained for every 15m height rise up to its maximum range of 300m from a starting height of 30m.
Wind Arrows and Table
Wind Arrows and Table

more about Wind Arrows and Table » « close

The wind arrows charts provide a "pictorial" view of conditions for the last 4 hours and 8 hours respectively. The 4 hour image contains numeric wind speed information whilst the 8 hour chart presents the data as wind direction with the wind speed derived from the colour coded scale presented. Complex wind patterns/flows can sometime be observed within the valley area. It is also sometimes possible to see dramatic wind direction shifts upon the passing of weather fronts through the area. The table presents data only from the last 15 minute data.

Wind Arrows - last 4 hours

Wind Arrows - last 8 hours

Current Wind Table
Graphs of Wind Direction, Speed and Vertical Speed for the last 24 hours
Graphs of Wind Direction, Speed and Vertical Speed for the last 24 hours

More about Graphs of Wind Direction, Speed and Vertical Speed for the last 24 hours » « close

These images show the last 24 hours as a timeseries graph. The individual heights depicted have been chosen as these typically have been shown to provide the more continuous dataset. NB. Very rarely will you receive 100% data capture from each 15m height up to the maximum range of 300m. Typically, data capture for the height range 30-150m can consistently be achieved. The instrument is working but has been unable to achieve soundings from the upper range due to prevailing conditions ie a low lying temperature inversion within the valley.

Wind Direction - last 24 hours

Wind Speed - last 24 hours

Vertical Wind Speed - last 24 hours
Current Wind Direction, Speed and Vertical Speed Profiles
Current Wind Direction, Speed and Vertical Speed Profiles

More about Current Wind Direction, Speed and Vertical Speed Profiles » « close

These images show the vertical profiles of wind speed and wind direction for the last 15minute data point. They serve to illustrate the conditions aloft within the height ranges measurable.

Current Wind Direction Profile

Current Wind Speed Profile

Current Vertical Wind Speed Profile